14.1.2019
What We Managed Together In 2018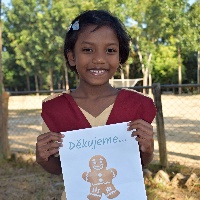 It was a ride and a great adventure that quickly went by. More supported children, fair gifts and lunches, recognition of our work and a brand new team. Take a look at what was achieved in 2018 thanks to your help and what important and beautiful stepping stones we expect in a New Year 2019. It will be a significant year!
CHILDREN AND STUDENTS
1185 Students, 9 Undergraduates
In 2018, you kindly supported education for 1 185 children and students from the poorest Bangladeshi families. That is about 29 children more than in 2017! Children have been provided with education, lunches, school aids, uniforms and medical care. 9 students obtained an undergraduate degree in December 2018. Thus, they have a chance to find a better paid job and improve their family standard of living. Thanks to your help, a labourer's daughter can become a nurse and an orphan could be a teacher. Thank you!
You Have Secured Lunches For Children At Rural Schools
The school is not only for education but it is also a place where we can help families living in extreme poverty. And we are still fighting against it in the Bangladeshi countryside. Thanks to the solidarity contribution of 50 CZK per month aimed for rural schoolchildren, we are still able to provide a lunch at rural schools to all children, not just for those adopted by ADRA. In 2018, the children were given 925 218 lunches!
The Gift-O-Mat Helps Children In The Biggest Need
You donated more than 500 gifts to children in the biggest need in a total value of 187,010 CZK. By using this amount of money, we could buy shoes and clothes for 76 children in need, improve food services at local schools, buy 23 goats as well as tutor a few pupils who would require additional teaching support. You can contribute a one-off to the Gift-O-Mat in the following section: Get Involved / Gift-O-Mat.
Children Received Pre-Christmas Gifts
You donated 200,000 CZK to the 'Moneybox of Joy' for children's gifts. In total, we distributed gifts to 1,540 children. Each child received a warm blanket, a cotton scarf and sweets. If every donor contributed 20 CZK monthly, we would be able to get the same amount for children's gifts in 2019.
PROJECTS
The Book 'We, Children Of Slum' Was Awarded By Donors Forum Award
At the Donors Forum Awards we won the 2nd prize in category of the Crowdfunding Event Award for publication of the book 'We, Children Of Slum'. We published the book together with an artist called 'Photographer Without Talent' who went with us to Bangladesh to help people living in extreme poverty. The book is full of photographs and deep as well as inspirational stories. You can buy it in a 'Get Involved / Gift-O-Mat' section.
As a follow-up to the project 'We, Children Of Slum', the 'Photographer Without Talent' went with ADRA to Lebanon and Iraq. In the book called 'The Children of War' he depicts life stories of ordinary people experiencing a war and how their post-war life looks like.
The Scooter Helped Bangladeshi Children
Traveller Marek Jelinek drove on a scooter 7 850 km from India through Bangladesh to Singapore and helped children in Bangladesh. Mark's 7-month journey and its virtual kilometers were watched at www.dobrobezka.cz. You fundraised a total of 102,197 CZK which will go towards covering teachers' salaries for the whole year and the operation of one class at the slum-educational center 'Chalantika'. We sincerely thank to all of the donors!
UNEXPECTED ENCOUNTERS
Czech Donors Met Children In Bangladesh
During the monitoring trip, three donors went to Bangladesh with us to meet children they are helping. Read the story of Kristýna.
Experience Bangladesh in the Czech Republic
You do not have to necessarily go to Bangladesh to get to know the country. In Prague, Brno and České Budějovice, you had the opportunity to experience Bangladesh with us. Genuine videos, stories, potato peeling in Bangladeshi style, and photocopies with the competition were successful. On January 19th, you can participate in the event 'Experience Bangladesh' in Frydek-Mistek!

BanglaKids Has New Team Members
Since the autumn, BanglaKids Team has expanded about two new team members. Šárka Hejnáková (on the left) returned from her maternity leave as a Team Coordinator who will inform you about the support of individual children. And your donations are now administrated by an Accountant, Jakub Škaloud (on the left).
YEAR 2019: BANGLAKIDS WELCOME 20 YEARS
And What Awaits Us This Year?
We are looking forward to the New Year 2019. The BanglaKids Project will celebrate 20th birthday! Yes, since 1999 you have been helping Bangladeshi children attend a school. You are opening the door to their better future and more life opportunities. We believe our common dream is that every single child will be educated based on his or her abilities and efforts, regardless of their family social background. Thank you for joining us and helping Bangladeshi families step out of the poverty.
Do you want to send some birthday wishes to BanglaKids for celebrating its twenties? Write to anna.zykova@adra.cz or visit our Facebook page. We are eager to hear from you how you perceive the project and its anniversary, why you decided to join us, what it brings you and where you see the project in a few year time. We are looking forward to the upcoming year with you all!