Mud Cutters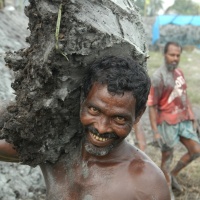 Mud cutting is performed by day laborers, i.e. people who are recruited for low‑paid jobs on a daily basis and whose income is rather uncertain. Mud is usually taken from fields, reservoirs or ponds when the soil is wet.
The work is organized as follows. Men in the working group have three roles: cutters, feeders and bearers,. There are usually more of them. Cutters use long, narrow, spade-like instruments to cut mud into cubes of 40 x 40 x 40 cm. Feeders pick them up on the bearers' shoulders and bearers take them to their destination. Walking barefoot, the men wear a T-shirt and shorts (or lungi) and a turban which protects them from the sun. Taking into account the intense heat (about 35 °C) and high humidity, it is an extremely difficult and laborious work.
In Bangladesh, this technique is used to dig out ponds, reinforce embankments and dykes. Mud cubes serve as natural bricks or blocks.