How It Works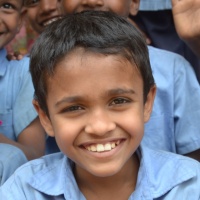 Look up information about children who do not yet receive support on our website. Choose the child (or children) you would like to support and become their sponsor. . Through regular donations to ADRA, you will provide children with the opportunity to study at village or boarding schools. Our team will take care of the administration and everything else necessary.
Sponsorship costs range between 29 EUR to 45 EUR per month, according to the type of education, age, and family situation of the particular child.
You can learn more in about About us section.
How to get involved?
Choose a child or children from the list of children who are awaiting sponsorship.
Fill out the registration form. Your personal data are subject to the protection of personal data under the Act No.101 / 2000 Coll., on the protection of personal data and will not be disclosed to any third party.
After providing all mandatory data, we will generate your donation contract. The contract is for a definite period, i.e. for the period of the child's school attendance. You can terminate the contract with a two-month notice. Shorter-term contracts are possible; however the minimum period is one year.
ADRA will send you payment information (amount, payment frequency, account number, variable and constant symbols).
Send your first donation to the account number provided to you in the contract. Please pay attention to the variable and constant symbols – these make our work much easier.
After the first payment, you will get access to your personal account at www.banglakids.cz/en/ where you will be able to find photographs and other information about the child you are helping. Once a year, we will provide new photographs and also his or her school results. Letters sent to you from the child will also be here.
Twice a year, you can write a letter in English to the child you are supporting, and you can also buy a gift package. If you are interested in meeting the child, you can join the waiting list and travel to Bangladesh and meet him or her when possible.

Confirmation of donation for the previous year for tax purposes pursuant to Act No. 586/92 Coll., § 15 para. 1, or § 20 para. 8 will be provided at the beginning of each new year.
If you have any questions, please contact our coordinator who will be happy assist you.
Thank you for supporting children in Bangladesh.