For Businesses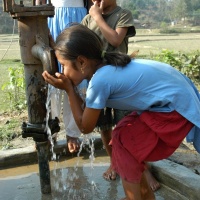 Are you a small, a medium-sized or a large company? Would you like to support a good cause? If your answer is YES, get involved in charity work with a deep human sense. You might very well own means or a certain know-how which could help poor families and children in Bangladesh. Choose from the options we offer or come up with your own idea. We are looking forward to working with you.
Support education of 5, 10, 20 or more children and give them a better future.
Buy a gift for the poor families of Bangladesh. 50 kg rice, a goat, a calf, chickens and other commodities fulfill the basic needs of the very poorest.
Improve the health of children and their study environment. Contribute to our support project or come up with your own idea. The needs of children in schools relate in particular to the following areas: water quality, construction activities and equipment of schools, electrification, agriculture, fruit growing, fish farming, poultry and livestock production, use of biogas for cooking, new teaching methods etc.
Help the children from the Chalantika slum go to school.
Help by organizing events. Organize a running competition, a long-distance march, a tournament, a concert, a theatre performance, a festival or something unusual. You could also arrange a fundraising event, anniversary celebrations etc. Be creative and help the children in Bangladesh.
Promote BanglaKids. Tell your friends about the needs and possibilities of supporting poor children and families in Bangladesh. Promote BanglaKids children sponsorship program on your website, Facebook, Twitter, via email or by sharing BanglaKids news and articles at your local newspapers. Support a good cause and enjoy your philanthropy.
Have a look at the overview of our projects, completed thanks to the generosity of our supporters.
We offer long-term partnership of the nonprofit organization ADRA Czech Republic and the BanglaKids programme with 15 years of tradition.
If interested and for further information, please contact us.
The rich should help the poor, the poor the even poorer.