2021: Teacher's house reconstruction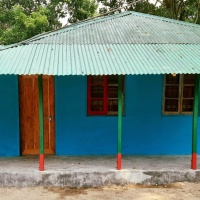 The teacher's house on the campus of Gopalgonj boarding school needed repair. And thanks to you, the donors, it is as good as new today. So the teacher's family has a decent place to live and the teacher can prepare for teaching. The repairs are part of a larger effort toward a new quality boarding school campus.
It included repair of the dining hall (2020), access roads, repairs to some of the houses and an older generator.
back