2020: Breeze for better learning and sleep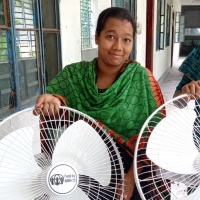 The heat makes it difficult for children to learn and to sleep at night. We used 100 new fans in the classrooms and the rooms of the boarding schools. Ensures airflow and gentle cooling. During the day, children will be able to concentrate better on teaching in the Bangladeshi heat, and at night they will be able to sleep better. Thank you!
PS: Fans are still needed. You can continue to contribute here.
back