17.4.2020
We help because we are equal…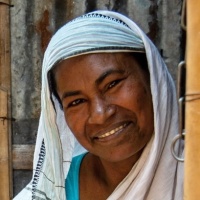 Moms from the slum said, "We thought you wouldn't want anything to do with us, that you wouldn't even talk to us, but that wasn't true. We are glad that Allah the Creator sent you to us. "Lucia, the donor of BanglaKids, replied," We do not help you because we are rich, but because we are equal to each other."
This is how this year's monitoring trip to Bangladesh began humanely and unforgettably. On Tuesday, March 3, we met the poorest slum mothers, whose children visit our slum educational centre Chalantika. One of the mothers regularly provides her meagre abode to other women to teach Bengali, know-how about health, hygiene and cooking. We sat there with them during class and talked from the bottom of our hearts, despite so many cultural differences between us. The introductory paragraph told you that the conversation was profound. And there were not many similar human encounters during the journey. Well, judge for yourself.
March 5: Ronjon has grown up
The orphan and "our boy", whom we have been supporting since 2011, celebrated his 18th birthday on March 1! As a gift, he received a watch, polo shirts (whoops, size S fits him) and some goodness. We saw each other for the seventh time. He would love to meet my wife as well. Probably because he only remembers his mother, who died of a snake bite. He will graduate next year and then he would like to study theology. But he also sings great. Really beautiful. He seems to be interested in theology after me and in singing after my wife. :-) We'll see how he handles it all.

We wrote about Ronjon in the book "We, the children of the slum" and on our website www.banglakids.cz/en/ in the article Ronjon: The Fate of the Orphan written on his and your forehead.
March 6: Tisha a dentist?
Tisha is an extroverted, smiling and very intelligent 16-year-old teenager with a horror story. In desperation after the family broke up, her mother wanted to bury her alive when she was 8 months old... She was rescued by neighbours and BanglaHope. She currently attends SAMS boarding school. She has beautiful American English and, like Ronjon, she sings beautifully. She should start studying in India next school year. She would like to become a dentist. Two years ago, she was sure that her husband would be American or Canadian. Today, Bengali is a favourite. Reason? "I've grown up," she replies. :-)
By the way, Tisha and I have such a friendly agreement - "My favourite hello and hardest goodbye". Maybe we'll meet again. And you can look forward to her story this year.
March 7: A day at Bangla Hope orphanage
We visited the orphanage with 160 children, where Tisha "was born for the second time", together with our donors (you can read about them at the end of the article). And again, I met a love here that has its origins somewhere outside our globe. For children, for donors, and also for Robin. A teacher from Oregon with 44 years of experience, who divides his retirement age between the USA and Bangladesh. 6 months at home, 6 months in a Bangladeshi orphanage. He remembers the names of all the orphans, including their often-moved stories. The teaching in his presentation was absolutely fantastic. The afternoon walk and its relationship with children is also an experience. Being a little boy again, I want to go to his school. :-)
March 11: Fire in the Chalantika slum - you don't want to experience this
On Tuesday afternoon (March 10), after returning from the north, we shot a short video for this year's Prayer for Adra in the centre of Chalantika, which is located near the Chalantika slum. A few words in class with the children, a lot of joy, we really enjoyed it. The little girl Halima helped us, which you will probably see in the clip. A day later, almost the entire Chalantika slum burned down. 2,000 families, more than 10,000 people lost their shelter. Among them are also 54 children and families from the centre, whom we help for a long time… Among them the little girl, Halima ... Fortunately, none of the people died.
We were on the spot shortly after the fire, the place was still smoking. The view of the place was like from some catastrophic movie (see FB post), but it was a fact. There were a lot of shaken people standing around. They showed us where they had a home a few hours ago. Even the children from the centre, who normally smiled, were sad.
People were sitting around the road with the things they had managed to save. They were very stunned, some women moaning loudly. These families took refuge with relatives and at a nearby school. The government provided food for the people. ADRA provides assistance to children and their families from the centre. We are also preparing additional assistance related to the COVID-19 crisis.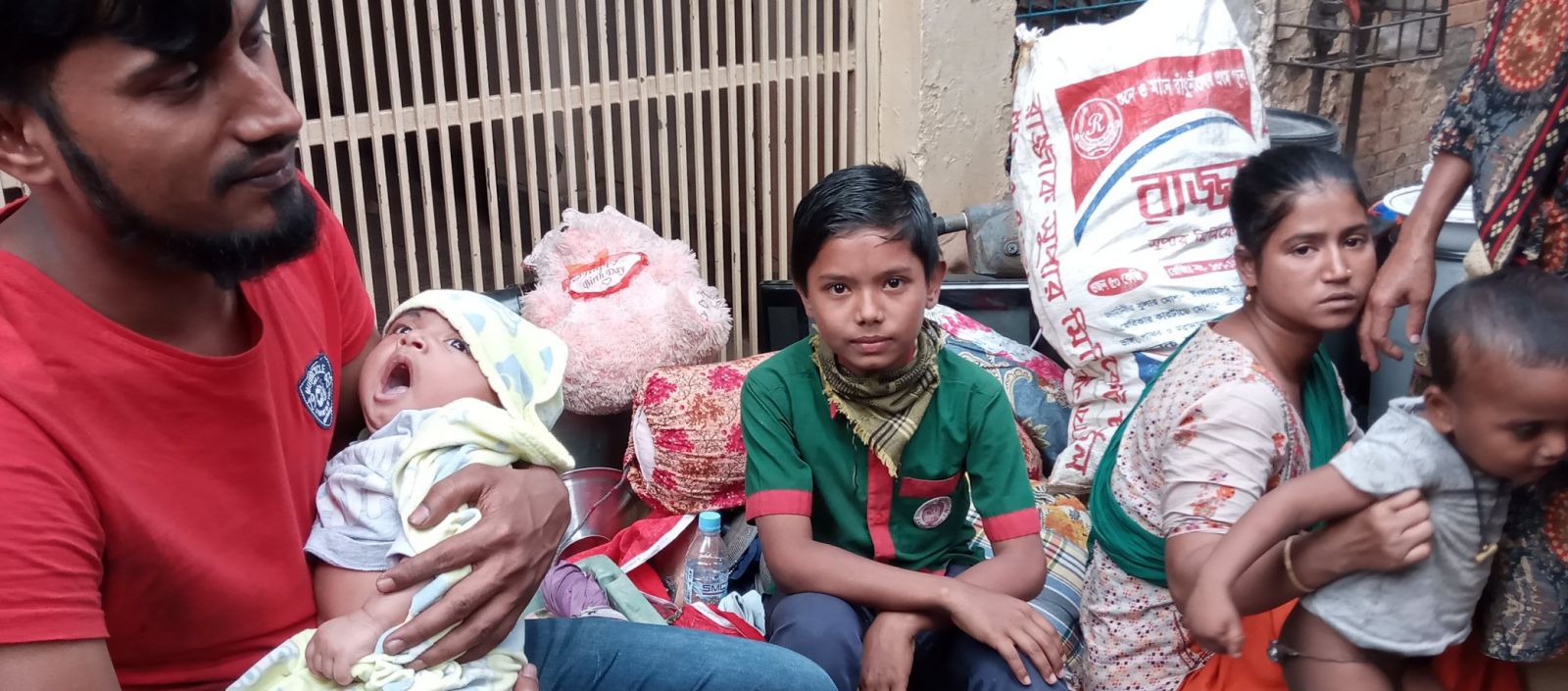 March 13: Mom is home again - without forgiveness, it would not be possible at all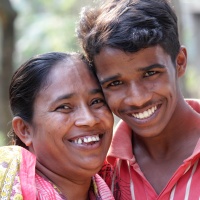 The good news is: Shubroto's mother has returned home after a few years! :-) When I found out, I was very happy, because we wished it very much to the whole family. We adjusted the itinerary and went to see her. We discovered a humanly beautiful, smiling and devoted woman. The conversation with her opened our understanding of the family tragedy - the financial illiteracy of the husband. We were pleased with her love for children (she has 3 sons and 1 daughter) and her husband, who is still somehow drowning in depression. We noticed that he is very self-centred and lives a little out of reality, while his wife is very practical and focused on people and family. The encouragement my colleagues and I gave him a smile on his face. We asked both spouses if they forgave each other. They said, "Yes, it would not be possible without forgiveness." I wonder how they will continue to live together and I wish them a lasting renewal in their relationship.
We wrote about Shubroto and his escape to school in the book "We, the children of the slum" and on the website www.banglakids.cz/en/ in the article Shubrot's Great Escape to school.

Match 2–11: Fantastic couples of donors
There were 2 married couples in Bangladesh with us this year. Monika and Robert from Žamberk, Lúcia and Jónatas from Portugal. All great, fantastic people. It is wonderful to see their love, generosity and fulfilment from meeting the children they help. Many times there were tears and emotions in their eyes. These people always enrich me in a way they have no idea about. I realize that through their hands, the children somehow receive love. And although donors are probably not very aware of this, they are also beautifully affected by that love. We believe that all of you who help children in Bangladesh are affected by love. Love, faith and hope are powerful motivating forces of the soul. :-)
You will learn more about our donors from the interviews, which we will gradually publish.
March 17: Return home
On Tuesday evening, March 17, I returned safely from Bangladesh. Given the declaration of a state of emergency and the closure of the borders, the timing of the entire monitoring trip and return was astonishing. I probably wouldn't get back a week later.
Kamil Kreutziger, head of BanglaKids
P.S. Coronavirus
"Coronavirus! Coronavirus! "Children in Bangladesh called to us in early March and pointed a finger at us. We laughed together and explained that we are not from Italy. With the exception of orphans in boarding schools, children are at home until 30 April. State Television broadcasts educational programs for the 6th to 10th grade, and programs for the youngest are also being prepared.
We hope that life in Bangladesh will be at least partially restored as soon as possible. This is an extremely difficult period for millions of poor people. It is difficult to buy groceries, and those who make money from day to day are now without income.
We continue to help the poorest: https://www.banglakids.cz/en/product/emergency-help-(covid-19)
P.P.S. Photo gallery
And please don't forget to check out the photo gallery with comments. Just click on the round thumbnail below and the photos and experiences are yours! :-) We are happy to share with you the joys that could not exist without you.