27.12.2022
Farewell to Šárka
Šárka Hejnáková, long-time coordinator of the BanglaKids programme, is changing her job after 15 years. Many of you knew her from phone or email communication, or from donor meetings. Today's interview is our farewell to Šárka. She'll tell us what it was like, what remains in her, and where she's heading. As a teaching assistant, she will help Roma children.
Šáruš, thank you for 15 years of work for ADRA and BanglaKids. It has been 15 years of your life that you have connected with Bangladeshi children. How is Šárka Hejnáková different and how is she the same today?
This is an interesting and difficult question. Going back, at that time I wasn't married yet, although Martin and I had been dating for 7 years, and of course we didn't have a son Ondra yet. On the other hand, I was in Adra all the time, except for 3.5 years when I was at home with Ondra.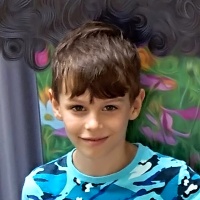 I guess we all change a little over the years, some more, some less. I think Ondra is changing me a lot - or at least he is unconsciously "trying to." :) Parenthood is a really big challenge for me, and at the same time an opportunity to change for the better. Basically, I fight with myself every day. Children open up different things in us that maybe we haven't worked out, weaknesses that suddenly appear and you have to deal with them.
That's interesting. So you're more of a fighter with your own self. :) Where else do you see a shift?
So you yourself have inspired me to grow during the 5 years or so that we have worked together on BanglaKids. And I think you've finally succeeded. :) I'm trying to do something with myself.
Does it have a specific implication?
For example, I started to improve my English. I have a very capable tutor, recommended by you, with whom I have regular meetings, and it's worth it. Even if it hurts a bit because it's a time investment. But if you want to change, you have to make the effort.
What from what you experienced with us stuck in your memory, what will you remember fondly?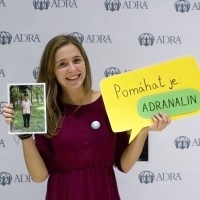 Lots of wonderful meetings, both with colleagues (we have very nice relationships, some of us are friends) and with donors. The meetings with donors, whether in person or even just on the phone, but also email communication with them, have been wonderful because a lot of our donors are just amazing people. It's interesting and sometimes touching to know why some donors have chosen to support children in Bangladesh, and what's behind their support. Many continue to support BanglaKids children for decades as if it were a given, but it is not. Good relationships and connecting with people - that's really important to me.
Can you remember a particular case that has made its mark on your heart?
There are certainly more of them... I am thinking of donors who I know have very little financial means, but still decided to help. They want to help, even if it sometimes means cutting back. Helping others is part of their life, and they want to make it happen and continue to do it, which is wonderful.
One donor was sending larger sums to support several children to ensure their studies would be secured in advance if something happened to him. Unfortunately, he died recently. But thanks to his donations, the children's education is still secure for some time. Just as he wanted.
One company helped the family of a boy they were supporting with a change to full support and also with an extra donation when they found out his mum was seriously ill and would no longer be able to work (his dad had died earlier). And so we could go on, but the willingness and desire to help others is evident in all the donors.
Šáruš, can you tell the donors where you're heading to?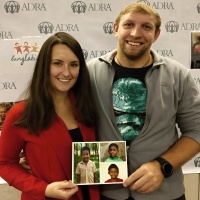 Definitely - I will be a teaching assistant in the 1st grade at the primary school in Kladno. This school has a catchment area for many Roma children, often from socially disadvantaged families. It will be a challenge for me, I don't know if I can do it, but I want to try.
They say change is life. When you look ahead, what are you looking forward to and what are you afraid of?
I look forward to meeting and getting to know new people. And I'm scared to handle it all because the principal said to me, "You know, these kids come from really troubled families. Some of them talk dirty and it's normal for them. We explain to them that it's not okay to talk like that and we move on... Definitely these children are also entitled to a good education, and we want to give it to them." So I'm going to try to be a part of that.
So, you'll be helping children again. Not to children in Bangladesh, but to Roma children here in the Czech Republic. And is the school where you'll be working strictly Roma?
There are mostly Romani children there, as well as Czech children and Ukrainian children.
That's nice. Good luck, Šáruš.
Thank you. :)
And what would you wish for the children in Bangladesh and your successor Katka?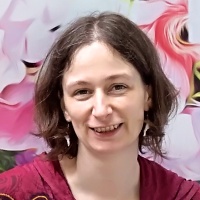 I would wish the children in Bangladesh to do well, to enjoy their school studies, to study for as long as possible and to get the best education possible. And also to get a good job that they will like and that will allow them to live better, to get some security, both for themselves and for their family. And also to be an asset to society, because most children in Bangladesh want to do something that has an impact and that will be useful to others. Basically, to make their dreams come true.
And I would like Katka to manage it all, because there are still a lot of things for her to do, not to get overwhelmed, to organize everything nicely and to enjoy her work on BanglaKids as much as I did. And that she also finds it so fulfilling and stays in Adra for as long as possible. Also, to have the opportunity to meet the donors in person at other donor meetings. And that she also enjoys her time in Bangladesh afterwards when she goes on the monitoring trip, because that is always a unique experience.
Final word?
Thank you! Thank you for meeting me, for the opportunity to be with you in Adra and with the donors. And also thank you for your patience when sometimes something was not as it should have been. And I would like to wish everyone the best! :)
Thank you for the interview.